Call, Meet & Message
Easily place calls or connect via private or group chats using your desktop or mobile device. Use the app or browser to join virtual meetings with built-in video and collaboration tools.

Manage Events, Tasks & More
Quickly add events to the calendar, assign new tasks, and create notes that the group can edit. You can also easily share files. Simply drag and drop from your computer or use one of the cloud storage options.

Use Built-In Analytics
Gain valuable insights and improve decision making with access to actionable data across your business. Use built-in reports or easily create your own dashboards.

Work Easily With App Integration
With over 100 ready-to-use business integrations—including Salesforce, Office 365, G Suite—and more always coming, you can easily add communications to all the apps you use every day.
Simplify your Communications so you can Focus on your Business Driving revenue, delighting your customers, ensuring your people are productive.
Avaya Cloud Office (ACO) can fundamentally enhance the way your business communicates with customers, partners and across your organization by simplifying the way you call, chat, meet and collaborate.
ACO places you, and all your users, in control of their communications, and delivers a unified communications experience that's intuitive to use and accessible from a phone, a browser or any mobile device.
From a single interface you'll:
chat with colleagues
make and receive calls
plan and join meetings
collaborate with screen sharing and video
keep your teams on-task with file sharing
task management and virtual team rooms that let everyone share and stay up-to-date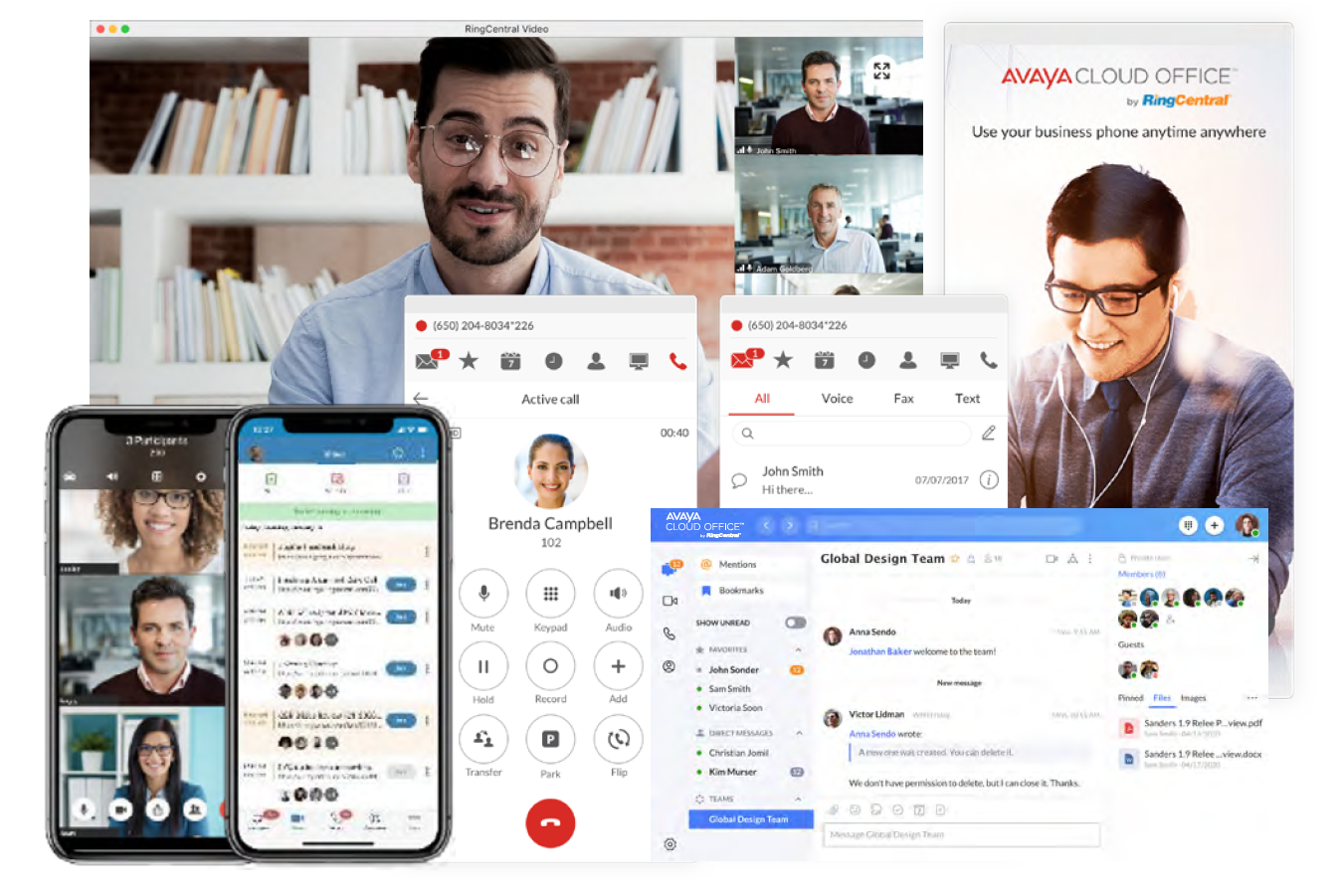 7 Business Benefits of Moving to a Cloud Communications Solution
Upgrading communications systems can be expensive. As a result, you may be living with a solution that lacks the capabilities and flexibility you need to fully support your business. you may also be worried about the consequences of continuing to run your communications on an outdated or unsupported system.
7 key advantages of moving to a modern cloud-based communication solution.
1. Unified communications across your company
Avaya Cloud Office integrates your business communications into a single solution that includes voice, online faxing, messaging, web meetings, audio and video conferencing, voicemail, and calling features. It also integrates with cloud-based business applications.
2. Simplifies multi-location management
Enables the solution to be managed from any location using a simple web interface or a mobile app.
3. Flexes when your business flexes
When you are growing and competing in today's dynamic markets, you cannot afford anything — especially communications technology — to hold you back.
4. Reduces infrastructure management headaches and costs
Awaya Cloud Office solution eliminates the need for up-front investments.
5. Connects mobile and remote workers
Workers at remote locations or home officers are connected in the same way as employees in the main corporate office.
6. Instant access to the latest features
The latest features and capabilities are continually integrated into the system.
7. Greater overall simplicity
Cloud communications solutions are simpler, less costly, and easier to manage.
Avaya Cloud Office manages the entire infrastructure in secure, redundant data centers, which includes handling network maintenance, software updates, and system upgrades. In addition, behind the scenes, Avaya Cloud Office continually innovates the system to improves reliability and add new capabilities.